Today is a special day, a very special day indeed and it is all thanks to our amazing users, customers and partners.  Today, Comodo is the no. 1 security and trust provider in the world!
Since the creation of the Internet, the title of the largest certificate authority has always been held by Verisign (now Symantec). Everytime there was a threat to their throne, they acquired the next largest provider in order to maintain their no. 1 position. They managed to do this for around 20 years, an eternity in Internet years.
Until today…..Comodo has now dethroned Symantec (Verisign) and has become no. 1.
http://w3techs.com/technologies/overview/ssl_certificate/all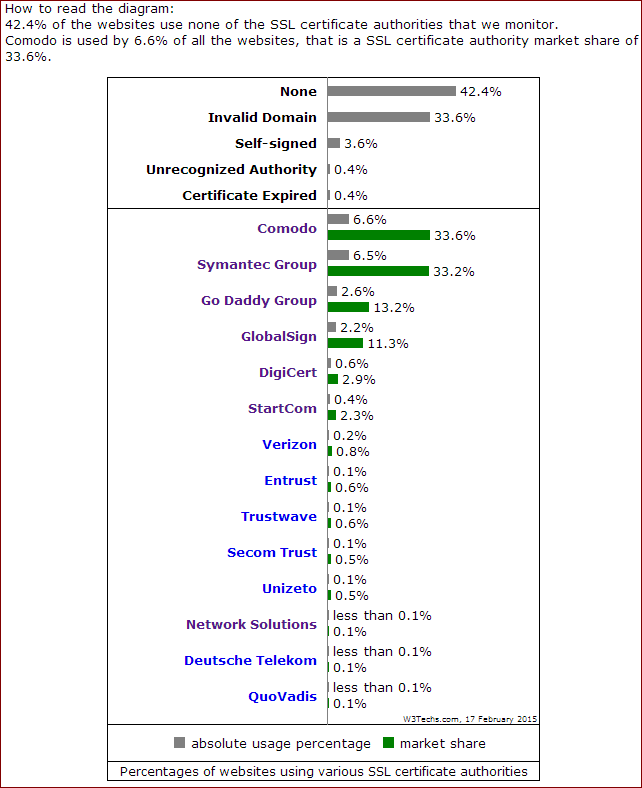 This is a historic moment in the history of the Internet and technology leadership, just like it was a historic moment for Google against Yahoo, Facebook against Myspace and many more examples of leadership positions changing hands.  In the field of security and trust, that title of no. 1 was safely guarded by Verisign (Symantec) for 2 decades.
But we never gave up.
We knew if we kept providing amazing customer support and innovative products, businesses and users would vote with their hearts, their minds and their finances and come to Comodo. We continued to grow organically, one business at a time, one user at a time, to build Comodo to where it is today.   Businesses worldwide have selected Comodo as their security and trust provider. We didn't need to acquire customers by acquiring another business.  These businesses actually chose us! They chose Comodo! We are eternally grateful that they did, and we will do everything possible to serve them to the best of our ability.
It is very clear that all the .com domains have overwhelmingly been choosing Comodo, showing a trend that .com owners prefer Comodo.  Take a look at the data from w3techs.com below:
http://w3techs.com/technologies/segmentation/tld-com-/ssl_certificate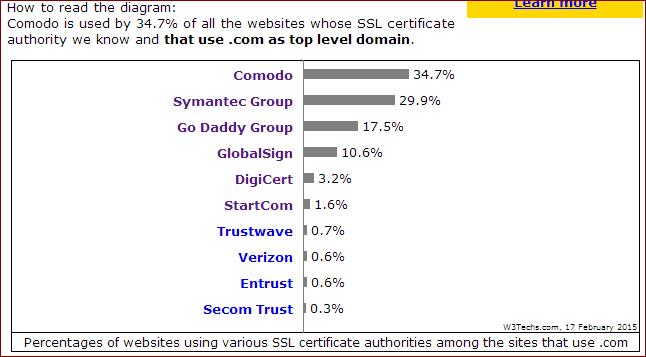 Comodo is not a one product company.  Comodo is not just a Certificate Authority.  Comodo is where an ecosystem of security innovation thrives, with the word ecosystem the emphasis here. Comodo has built an entire ecosystem of interconnected, interoperable security products and services where each and every product not only contribute to trust and security itself, but also help improve the security and efficiency of other products in the ecosystem.  It is indeed fair to say that we don't really have a product with a single purpose, they all work together. This is the only way we can defeat the evil that we all face every day in the cyber-terrorism world.  Standalone products' capabilities are limited and no longer well suited to fight the cyber war that we find ourselves in.
And thanks to this ecosystem and thanks to over 85 million installations of our security products, the very people that e-commerce merchants want to attract are the very people who use and trust Comodo to protect their computers.  By choosing Comodo to protect their websites and businesses, these emerchants are able to establish trust with their site visitors and customers, because just like them, those visitors and customers also trust Comodo.  We all know that for any transaction to take place, the very first pre-requisite is trust!  E-merchants proudly displaying that they are trusted by Comodo immediately establishes trust with the end users who also have trusted Comodo to protect their families.  It is an ecosystem of trust!
I mentioned this was a very special day for Comodo, but it also a very special day for me personally.  I too had a dream and a vision – it's why I founded Comodo.  Just like anyone out there starting their business, I dreamed of helping securing the world, dreamed of fighting the evil of using technology against us.  Some people even laughed at me, saying I could never do it, that I could never build a security company founded on trust.   There are so many pessimists out there today who do that to all of us who have a vision, who are putting their heart and soul into an idea to turn it into a reality.
We have an amazing team of people here internally at Comodo that helped make this dream a reality, building trust into everything we do.  I want to thank each one of them for their huge support in getting to this day.
When I started, there were some days where I felt like those people might be right, where maybe I was being a little naïve on my dream of securing the Internet for all …..but then I thought, if I don't do it, who will?  Why shouldn't it be me! Why should I let pessimism win? Am I not even going to try?   There were too many reasons not to persevere, and that's a huge statement.   You have to pick yourself up and march on, and on, and on.   Soon, you learn…you never give up….it's your dream, you must turn into reality.  So today's news is a huge moment in my life where I can point to it and say I did turn my dream into a reality.
To everyone with a vision out there, this is your success, not just mine.  This success belongs to all the people out there who have a vision and put their heart and soul into making that dream a reality.  Don't ever give up.  If you are down, get up.  If you fail, learn from it and let it be a lesson and not a failure.  Use that lesson to try again, and again and again, and one day you will succeed.  If not today, then tomorrow, if not tomorrow then one day. But you will succeed!
On that note, I wish to dedicate today's success to all the hard working visionaries, dreamers out there, without you there would be nothing, because every creation starts with a vision!
Melih